All-White Tonight Show to Feature 5th Consecutive White Male Host
Cross-posted at the Francis L. Holland Blog.
Soon Conan O'Brien will replace Jay Leno as host of the Tonight Show. Let's face it: Conan O'Brien's foremost "qualification" to host the Tonight Show is that he is a white man. If he were not a white man, he would not even be considered for the post.
In fact, Conan O'Brien will be the fifth consecutive white male host of the Tonight Show:
Is this a coincidence?
First (in my lifetime) there was Johnny Carson, whom I enjoyed and laughed with at times, although I cannot remember anything I laughed about. (Once Johnny Carson had a guest-host named "Bill Cosby" who told a joke I'll never forget: When asked what differentiated southerners from northerners, one guest suggested that Southerners "suckle longer", and Bill Cosby offered that they also "suckle lower". The crowd went silent and it was apparent that Cosby had insulted Southerners. But, in spite of the fact that the Bill Cosby show once had the highest ratings of any program on television, Bill Cosby was never invited to host the Tonight Show permanently. Because his skin is brown, Bill Cosby is considered inherently "unqualified".)According to Wikipedia,

During the 1980s, Cosby produced and starred in what is considered one of the decade's defining sitcoms, The Cosby Show, which lasted eight seasons from 1984 to 1992, and is still seen in syndication. The sitcom highlighted the experiences and growth of an upper middle-class African-American family. He also produced the hit sitcom A Different World, which became second to The Cosby Show in ratings.

In the context of all-white-male monopoly of the late night talk shows, even having the TWO highest rated comedy shows on television was not enough to win Cosby the coveted Tonight Show gig, when there were white men willing to do the job.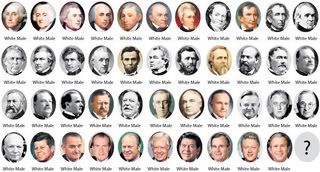 Until recently, like the "all white male tonight" talk shows, the US presidency was reserved exclusively for white males.
After Johnny Carson, Jay Leno, another virtually unknown white man at the time, became the host of the tonight show, which perhaps should be renamed "The White Man Tonight Show". During that period white man Conan Obrien got his own show, although he was virtually unknown prior to the fact, and a host of other white men hosted shows like the Tonight Show, while Arsenio Hall is virtually the only comedian who is NOT a white man who ever hosted a national late night variety show.

If you can name some of the other virtually unknown white men who have been given late night talk shows, please put their names in the comments. If you are aware of ANY virtually unknown woman or Black or Latino person who has EVER been given a late night talk show host position, please put that person's name in the comments below as well.

For those who don't live in the United States, you have to understand: it is considered essential to the future of television (and to the white male domination of television and society in general) that all talk show hosts must be white men. The same goes for talking heads on Sunday morning news/interview shows.)
On June 13, 2008, when Tim Russert, host of Sunday Morning Talk show "Meet the Press"died, the only question was which white man among the some 15 million available adult white men in America would replace Tim Russert. He was temporarily replaced by white man Tom Brokaw and then permanently replaced by virtually unknown white man David Gregory.
It's tradition really. Back in the days when only men were allowed to attend Harvard University and Blacks were not allowed to vote or travel in the same train cars as whites, and when women were not permitted to have bank accounts in their own names, it was during that time that the all-white-male talk show and news host and anchor rule was established. Although women can now open bank accounts by themselves, and Blacks can ride with whites in the same train cars, the all-white male late-night talk show host rule has endured.
Some reader will surely point out that there have been one or two Blacks and/or women who had a late-night show. But, they will find it impossible to cite a case such as that of Conan Obrien, in which an absolutely unknown Black man or woman of any color stepped to the front of the line to take the mantle of "most important talk show host."
It is assumed that all late-night talk show hosts will be white men, and there is virtually no set of facts that will convince Hollywood otherwise. They consider it better to pick a white male gas station attendant at random and give him the Tonight Show than to pick a woman or Black or Latino who has established his credentials as a comedian.
The underlying fundamental reason is the white male supremacy paradigm.
As I wrote on December 13, 2006, with respect to the presidential race:
Here, I define white male supremacy as:

The "belief that white males, no matter how much and how often they fail, are still, by virtue of their male gender and white skin, inherently more qualified than Blacks and women who succeed.

The corollary to that definition is that white male supremacy is also:

The belief that Blacks and women, no matter how much or how often they succeed, are inherently inferior to white men, no matter how much or how often white men fail. Crashing the Whte Male Supremacy Paradigm.
Now, we've obvious made some progress over the last three years against the white male supremacy paradigm, because we now have a Black male president and a white woman secretary of state, as well as a white woman speaker of the House of Representatives. But late night television as well as Sunday morning talk shows have made virtually no progress at all, in their thinking and in their hiring practices.
Most Recommended Comment
John Doh (not verified)
Crowd Power
First Flagged at 12:59 AM, Apr 29, 2009 by Anonymous (not verified)
Recommendations (1)