BigT's Roundup - Wednesday Ed. (10-18-07)
BigT
| October 18, 2007 at 12:37 pm
You Read, I'm Right. From ConservativeINC.
Now that the SCHIP veto has been upheld…




…these girls won't have to dip.
According to Mike Allen at the Politico Bush is appointing some
advisers to work with congress to come up with a compromise SCHIP plan.
AP's Kevin Freking looks ahead: 'President Bush,
anticipating that his veto of a $35 billion spending increase for
children's insurance will stand, has assigned three top advisers to try
to negotiate a new deal with Congress. … Leading the discussions for
his administration are Mike Leavitt, the health and human services
secretary; Al Hubbard, director of the National Economic Council; and
Jim Nussle, the White House budget chief.'
Even though a ton of kids won't be able to get health care now they can get birth control freely and confidentially at one Maine Middle School.
The Portland school board on Wednesday approved a
measure allowing middle-school students to gain access to prescription
birth control medications without notifying parents.

The proposal, from the Portland Division of Public Health, calls for
the independently operated health care center at King Middle School to
provide a variety of services to students, including immunizations and
physical checkups in addition to birth-control medications and
counseling for sexually transmitted diseases, said Lisa Belanger, an
administrator for Portland's student health centers.
At least this measure, which provides birth control to children as
young as 11, will stem population growth and prevent more children from
having to live in the callous nation of America. I mean, wouldn't you
want your eleven-year-old to know that there is a safe place for her to
go if she has a rash where the sun don't shine?
Or maybe there's another option for children. Michael Franc, VP of
government relations for the Heritage Foundation, wrote a piece titled How to Insure Kids (Once the Shouting Dies Down)
that attempts to provide an alternative road. Curiously, the option he
is proposing is being backed by liberals as well, including some of the
most vocal critics of President Bush's veto.
An alternative approach is waiting in the wings. Sen.
Mel Martinez (R-Fla.) is floating legislation that mirrors the plan
that last January brought together a diverse coalition of
organizations, including liberal advocacy groups like Families USA and
AARP, health provider organizations like the American Medical
Association and the American Hospital Association, business groups like
the Chamber of Commerce, and my own conservative think tank.

This approach would do two things. First, it would maintain the
SCHIP program's historical focus on children in families at or slightly
above the poverty level and give it resources to identify and enroll
more of the half million SCHIP-eligible kids who still lack health
insurance. Second, it would create a tax credit for families with
income between two and three times the federal poverty level (up to an
annual income of $62,000) for the sole purpose of securing health
coverage for their children. This much-needed tax relief would enable
the 10.5 million children in these families to gain or retain their
private coverage.

As Martinez argues, rather than "putting more people on a
government-run program" and in many cases "forcing them to drop their
current coverage, let's advance tax credits to … help families with
employer-based insurance add their children to their existing policies"
or, for those lacking coverage, "provide the resources necessary [for
them] to go out and purchase health care."
Harry Reid should be very proud about a letter he wrote that is up
for auction on eBay right now. The auction is about a day away from
ending and the letter is already fetching more then $500,000!
Or should he be so proud? No, of course he shouldn't be proud because
the letter's purpose is to get a private citizen, Rush Limbaugh, in
trouble with his boss. It's a good thing that Rush knows how to turn
lemons into lemonade because all the proceeds, plus a matching donation
from Limbaugh himself, is going to go to the Marine Corps - Law Enforcement Foundation.
Meanwhile in Pakistan an exiled ex-leader, Benazir Bhutto, has come home and found time to write a story about it! Here is part of what she had to say:
AS I board the plane that takes me home to Pakistan
today, I carry with me a manuscript of a book I am writing that will be
published shortly. It is a treatise on the reconciliation of the values
of Islam and the West, and a prescription for a moderate and modern
Islam that marginalizes religious extremists, returns the military from
politics to their barracks, treats all citizens and especially women
with full and equal rights, selects its leaders by free and fair
elections, and provides for transparent, democratic governance that
addresses the social and economic needs of the people as its highest
priority.

To me this is not just a book but a campaign manifesto, a guide to
governing. If the people of Pakistan honor me again with an opportunity
to lead, I intend to practice what I preach, to have my actions match
my rhetoric and to make Pakistan a positive model to 1 billion Muslims
around the world.
Is she serious? A major part of the reason for her exile was the rampant corruption that occurred under her nose. Ralph Peter's from the New York Post takes it from here.
For all his faults, Musharraf views himself as a
Pakistani patriot - not as a political party boss in the fashion of
Bhutto, nor as a Punjabi or Pashtun, Baluch or Sindhi first. Indeed,
only the military holds the fractured state of Pakistan together.

Now Benazir Bhutto - one of the figures who did so much to destroy
the fabric of society and the economy - is back in Pakistan. It appears
that she and Musharraf have worked out a power-sharing arrangement. We
may hope for the best, but we also need to be prepared for the worst: a
new era of hyper-corruption, as Bhutto's grab-all gang replaces the
relative moral rigor of the military in the public sphere.
And…
In the West, Bhutto is popular because she's a civilian
- and that's about it. Her champions merrily overlook the pestilential
corruption, social polarization and pandering to extremists that marked
her two terms as prime minister.
Just because she doesn't have a fancy military uniform doesn't mean
she's all sugar and spice and everything nice. With her reemergence as
a source of power in Pakistan our relationship with that country is
going to get much more tricky. No one knows what her current policy
proposals are going to be but I think it is safe to assume that she is
going to do whatever she can to undermine Musharraf and that would mean
undermining someone who has been our ally since 9-11.
Would she go as far as helping al Qaeda get their hands on a nuclear
weapon? I doubt it; they supposedly want her dead (even though she did
support the Taliban's takeover of Afghanistan for "economic" reasons
when she was in power). But odder things have happened in the name of
politics. And according to David Ignatius at the Washington Post al Qaeda is definitely trying to get a nuke.
After a few sentences of chiding Americans for succumbing to fear
mongering about possible terrorist attacks he gets to the meat and
potatoes of his story. As far back as the early 90s al Qaeda was trying
to get its hands on nuclear material so they could build a nuclear
weapon.
for nearly a decade before Sept. 11, al-Qaeda was
seeking to acquire weapons of mass destruction. As early as 1993, Osama
bin Laden offered $1.5 million to buy uranium for a nuclear device,
according to testimony presented in federal court in February 2001.
When the al-Qaeda leader was asked in 1998 if he had nuclear or
chemical weapons, he responded: "Acquiring weapons for the defense of
Muslims is a religious duty. If I have indeed acquired these weapons,
then I thank God for enabling me to do so."

Even as al-Qaeda was preparing to fly its airplane bombs into
buildings, the group was also trying to acquire nuclear and biological
capabilities. In August 2001, bin Laden and his deputy, Ayman
al-Zawahiri, met around a campfire with Pakistani scientists from a
group called Umma Tameer-E-Nau to discuss how al-Qaeda could build a
nuclear device. Al-Qaeda also had an aggressive anthrax program that
was discovered in December 2001 after bin Laden was driven from his
haven in Afghanistan.

Al-Qaeda proclaimed a religious rationale to justify the WMD attacks
it was planning. In June 2002, a Kuwaiti-born cleric named Suleiman Abu
Ghaith posted a statement on the Internet saying that "al-Qaeda has the
right to kill 4 million Americans" in retaliation for U.S. attacks
against Muslims. And in May 2003, at the same time Saudi operatives of
al-Qaeda were trying to buy three Russian nuclear bombs, a cleric named
Nasir al-Fahd issued a fatwa titled "A Treatise on the Legal Status of
Using Weapons of Mass Destruction Against Infidels." Interrogations of
al-Qaeda operatives confirmed that the planning was serious. Al-Qaeda
didn't yet have the materials for a WMD attack, but it wanted them.

Most chilling of all was Zawahiri's decision in March 2003 to cancel
a cyanide attack in the New York subway system. He told the plotters to
stand down because "we have something better in mind." What did that
mean? More than four years later, we still don't know.
al Qaeda with a nuclear bomb would be the worst news possible. They
have no reason not to use it because there really isn't a specific
geographic location we can target for a counterattack that would
eviscerate al Qaeda for good. Dispersed terrorist organizations are so
dangerous because they could theoretically be everywhere. We know that
some of their operatives have pulled off major operations within our
borders before and there's no doubt, in my mind at least, that there
are more sleeper cells in America today awaiting orders.
And how hard would it be getting a nuclear bomb into America? It
wouldn't be as easy as smuggling a cache of AK 47s over our Southern
border but I think we would be fooling ourselves if we thought it was
impossible. Load the nuke in a large enough truck and bring it in from
Canada. Or, if the terrorists wanted to produce the maximum damage from
their illicit WMD by putting the mega-bomb in a plane and set out from
Southern Canada. Go "off course" into New York and head for New York
City. Even if we scramble our jets and were able to intercept the
nuclear plane what would we do? If we blew it up it would serve to make
a large area a radioactive wasteland because the blown up nuke would
serve as a dirty bomb. There's no way to defend against this attack
except for eliminating the threat before it gets off the ground, so to
speak.
BigT's Linkapalooza:

Find out how Hillary likes her Berger.

American Muslims against Saudi Arabia.

Iran supports the Taliban.

US wants Saudi school closed in America.

Play videogames? Want to be a spy?

University cancels talk from controversial speaker. Free speech is so important….

This years creepiest mask!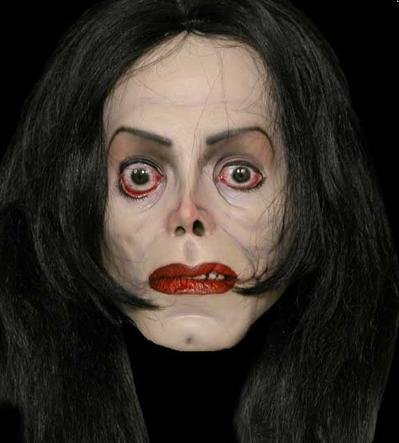 BigT