Neil Armstrong to be buried at sea
mgunner1
| September 6, 2012 at 10:15 am
156 views | 10 Recommendations | 0 comments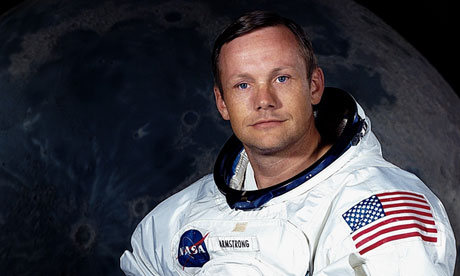 According to a report on TMZ.com, the first man to walk on the moon, Neil Armstrong, will be buried at sea.
Armstrong, part of the second astronaut class, died Aug. 25 at age 82 from complications suffered following heart surgery. Armstrong, along with Michael Collins and Edwin "Buzz" Aldrin, embarked for the moon in July, 1969. Armstrong and Aldrin, in the lunar module named Eagle, landed on the moon July 20, 1969. Collins, meanwhile, remained in moon orbit aboard the Columbia. While on the moon Armstrong and Aldrin took a call from then President Richard M. Nixon.
According to the report, the family wouldn't specify when or where the burial at sea will take place.

Before joining the astronaut corps, Armstrong served as a Navy fighter pilot, flying combat missions in Korea. Burials at sea are common for Navy veterans.

A public memorial for Neil will be held at the Washington National Cathedral next Thursday. A private service has already been held in Ohio, Armstrong's home state.