U.S. Army Unit to Deploy On American Streets
Is the United States preparing for civil unrest?
As Bush attempts to scare the American people into a bailout plan, as Commander and Chief he is ready to deploy American troops into American cities.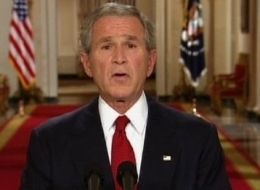 Yes, according to African American Political Pundit Blog and Democracy Now.org a U.S. Army Unit is to be deployed in October for Domestic Operations.
Crowd Power
First Flagged at 3:11 PM, Sep 26, 2008 by
Rhonda J Mangus
These members have powered this story: